Kade has his 
Strabismus
surgery last Wednesday.  He was scheduled to be at the hospital at 1pm, and we were there with plenty of time to spare.  We were taken back to pre-op and had visits from nurses and Anesthesiology Drs. They wanted to make sure they got his anesthesia right since he has a suspected Mito Disease.  Mito kids have a very hard time with general anesthesia.  Soon enough the nurses came to get him, they explained that Surgery would last about 2hrs.
We patiently sat in the pre-op room waiting for a phone call telling us surgery was over.  Before we knew it, his Eye Doctor came in and told us that everything went as planned and that he would be waking up soon.  He did warn us that his eyes would be very bloody and he would even have bloody tears.
We got a call from recovery to come back and see him.  Annette and I went back and found Kade whimpering and not wanting to open his eyes.  He was holding his stats fine so they let us transfer him to his original room for the rest of recovery.  We quickly found that his eyes were really hurting him, he would hold his breath each time he tried to open his eyes.  The nurses really didn't like his breath holding so they gave him some pain meds to take the edge off.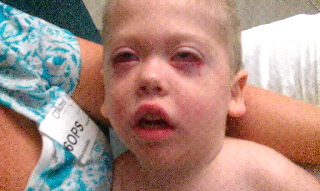 The only issue with giving him an extra dose of pain meds is it made him almost impossible to feed.  Unfortunately it was nearing his dinner time and he HAD to take his meds.  An hour and half later, we were finally to force feed him enough food and milk to get his meds down.  We were worried though because he was not waking up, he just wanted to sleep.  This was rather concerning because we knew that Mito kids have issues, and we did not want to spend the night.  The nurses asked that the attending Anesthesiology Dr come in and asses him.  The Dr came in and examined him and talked to us for a good while.  She was more than willing to keep him overnight for observation purposes, but didn't thing it was needed.  We finally went home about 8pm.
Once we got home, we had to figure something out about his sleeping arrangement's though.  Kade likes to sleep on his belly, but we couldn't let him since his eyes just had surgery.  The solution was for him to sleep on his back, but he likes to bite his fingers.  What were we going to do???
Tomorrow: How we tried to keep him from biting his fingers.  Hint: Epic Fail.